A nightmareishly long post in reply to Anya's questions due to having to add in scene copy/pastes…
I sort of bounced around putting things into this post, so it probably doesn't make very much sense. And you've probably read most of the scenes herein already, but that's not the point.

-Have you written an event or character or plotline into your fan fiction that relates to something you wish you could experience or become some time, either for real in the future or just as a wishful fantasy? (Examples of passages showing this would be great thanks)
…uh… yes? I'll try to find a few passages that express this. Beyond entire fanfics, I mean…
Heck, pretty well any of the basic stuff Tiana's done counts as things I wish could become reality. But. *red faced* I suppose the whole romance with Jether counts best. I only wish I could end up with a boyfriend as considerate as Jandalf writes him to be.
I found one scene that fits this, somewhat. A dialogue I did between Tiana and Anakin. Wishful, yes. I'm a hopeless romantic going through a stage where guys are cute. It'll wear off in a while, but it comes in handy trying to write romantic crap at the moment.
Tying in to one of Jandalf's scenes, between Obi-Wan, so it may not make much sense.
*
She shook her head. Masters. There's no living with them. Tiana had been quite content to stay hanging around the sparring mats, avoiding the fighting– though she wasn't bad at it– but off went Jandalf. As usual.
"Edgy," she said, dryly. Talking outloud to herself didn't make her look particularly good, but everyone who knew her name thought she was mental as it was. She grinned faintly, watching some of the older Padawans attempt to take on Anakin Skywalker, and, as usual, fail.
Jandalf knew well enough that the only reason she had wanted to come down here was to watch a certain older Padawan anyway. I'm suprised she hasn't gotten me in deep water for that.
She had found her Master to be oddly understanding– or at least somewhat leniant. What female her age didn't have a crush on the young Skywalker anyway?
Tiana shook her head and redirected her attention to watch her Master sparring with another– Anakin's Master, she observed interestedly. Well, now that explains a lot, she thought with an evil chuckle. Brushing gold streaked hair back behind her ears, she snickered at the thoughts running through her mind.
She wondered if she should see if there were any other spair Padawans hanging around who wanted to risk fighting her.
It was too entertaining to watch Jandalf and Obi-Wan fighting. They were more experienced than the older Padawans, with completely different styles.
A tap on her shoulder startled her out of her reverie. "That's your Master?" A statement, or a question– Tiana wasn't sure.
She turned around, and glanced up at the blue-eyed face of Anakin Skywalker– a bit tired out. "Yeah," she answered. "It's oddly entertaining to watch her fighting your Master. Why aren't you still out there?"
"I'm done for now," he answered. "Why aren't you?"
"I avoid matches."
"Why?"
Tiana snickered. "I don't like burning down buildings."
Anakin blinked.
She quickly amended that, "I enjoy sparring once in the while, but only when I have to will I bother with competition. If I have to fight, I'll tackle Jandalf, and attempt to get her mad enough to fight back."
"You aren't like the others," he commented.
Tiana grinned faintly, her attention off of Jandalf and Obi-Wan now. "Nah. Who wants to fit in when it's much more fun to drive everyone insane? I don't see a point in acting all high and mighty, and so pathetic around higher ranking Jedi." She rolled her eyes. "Besides, Jandalf seems to hate the whole bowing thing, so it's not really in habit to treat her with complete respect, if that's what you were referring to."
"It was."
She shrugged. "Hey, I can't help it. It's her fault, for bothering keeping me as her apprentice."
Anakin changed the topic. "Why are you here, if you aren't doing a match?"
Tiana grinned evilly. "Isn't that obvious? I'm here to stare at you."
She stood up, and left the older Padawan speechless, staring at her complete bold statement.
***
It was lunch, the second day. Tiana had learned by the first week of an apprenticeship to one Jandalf the Orange not to question her like of food, and just live with it. It had got a tad annoying, the fact that her Master could finish a meal before half of the Temple had started on their first helping, but she learned not to complain.
Tiana didn't particularly mind having enough to eat, anyway, considering as a crecheling she had rairly ever had seconds from a lack of skill at talking to anyway. And the amount she could eat when hungry could rival Jandalf, if she had wanted to.
So, her Master was off attempting to get seconds of whatever the day's meal way– some weird fish meal with some odd sauce. It had tasted fairly good– it wasn't her favorite, but it was good. And having seconds was pretty good as it was.
"Hey."
She was completely startled to look up at Anakin Skywalker– for the second time that week.
"Hi," she said weakly, moving over for him to sit down. "You aren't here to harass me for that comment I made yesterday, are you?"
"No," he said, grinning.
"OR tell my Master?"
"Why would I do that? You'd just get in trouble for admitting to a crush on a fellow Padawan, most likely."
Tiana snorted. "Hey, Jandalf knows I like you. She's just too busy staring at your Master to care who I'm ogling over."
"What?!"
"Oh, come on." Tiana rolled her eyes. "You haven't noticed the way she looks at him."
"Well…"
"What I would give to catch them looking at each other on a holo," she mumbled.
Anakin looked at her, startled by that obvious plot against her Master.
"Hey." Tiana shrugged. "I'm allowed to plot against her if I want. It's not like I'm ever going to hurt her, or anything. Just be annoying, that's all. I just hope they don't go too far, and end up getting in trouble. I'd hate to lose Jandalf. She's the only one who really understands my uniquities…"
"Not the only one," Anakin said, softly.
Tiana stared at him for a moment. "So why'd you come here, again?" she asked, trying to break the uncomfortable topic.
"To return the sentiment." He playfully wacked her on the shoulder, and stood up to leave, walking away quickly.
A relatively harmless comment, but it left her sitting stunned on her seat. When Jandalf finally returned, she was silent, poking at the second helping of fish, and wondering how she was going to talk to her ever again.
He so had to have been kidding… right?
-Do any of the titles of your fan fiction pieces include the specific name of the central character? (Lord of the Garlic doesn't count as a specific name)
I personally think that using your main character's name in a title is cliché beyond belief. Such as the Potter brat. *gags* No other examples come to mind. I did use a character name in fanfic titling ONCE… um… Palpy's in my Closet and I Don't Know What To Do. Palpy and "Laura" are the main characters, and it's… well… uh… *blinks* Strange.
Then I have A Slight Misunderstanding, The New Sith Order: Mirrormath, The Master's Vendetta (gotta update that one…), Torn…. yeah. Then there's Paint Wars, The Fellowship of the Plot Bunny, The Twin Paradoxes, and The Domino Effect . And I'm thinking about Shattered Jedi for the last piece, since we've got up to 1000 pages of RP transposing to do and it's still not done, and TDE is plenty long enough… yeah. *coughs* None of those contain character names. I prefer to express the story in my titles.

-Are there any examples of your characters getting ill, feeling sick or hurt, or experiencing any bodily pain? (Examples if you have any please)
Sure thang. I may be able to find a few better examples given a moment, but here's a very mild example… Link to Palpy's In My Closet, chapter one, in which my main character is zapped, and other insanity insues. And I'm too lazy to copy and paste it and fit in all the coding again, as it's rather too long. Read the entire story if you have time. It sort of fits most of these. A character being mildly injured, and it's definitely wishful fantasy that I KNOW can't come true. Heh. Including the getting other Middle-earthians in my hometown, and characters randomly showing up… and it's evil.
And… I just scanned through my other posted stories, and they're plain PATHETIC. Augh. I mean, some of my older ones… The Three Worlds has potential to be salvaged, and I think I will. Only not in the Star Wars universe. I mean, I read it and stared. Whoa. It was too much like LotG for its own good in a couple spots. I'll try to salvage it as a fanfic, I think… but Teleporter is pathetic beyond belief, a total Mary-Sue, and definitely not at my writting peak. At. All. *crings in pain* I can't believe I wrote that. However, it is where Tiana came from, but… oh well.
…sheesh. I can't actually find anything I've wrote worse than minor (and the character fell over unconscious) etc. It seems my writting has extensively improved with the writting and patiently annoying betaing of Molly. I cringed to read some of my early stories, and think of how greatly time has brought me to skill.
Waitamoment… RPG, HERE I COME… *bounces on MEI RPG to find an approptate piece for Anya*
Unless you'd like spoilerific pieces for NSO? I could give you the duel with Luke/Maul/Mara… I'm just loath to post any pieces of the next chapter with Jandalf reading, unless she doesn't mind reading the unbetaed pathetic pieces of mine art. Considering she reviewed for The Three Worlds, she probably could take it easier than that, anyway… heh… *crings in pain at memory of scary writing* It's just the spoilers. I'll dig it out anyway, probably…
AHAHAHAH… I FOUND something. I was going through on Yoda Clones… a piece of an Ariane scene. That sort of fits.
ow ow ow ow OW it hurts its hot its cold hot cold hot both everything confusing me why cant i make sense of anything which ways up down right left wet feels wet but so dry i cant feel anything but hot but cold not starting this again its pain just pain OW floor's cold not floor i'm on the roof it hurts the air's so hot ow OW dont do that…
Ariane bit back an outcry, and attempted to pull herself to her feet, only to discover that her feet wouldn't work any better than the rest of her body. Her eyes worked somewhat, though everything that went a foot beside her turned redish, and she couldn't look up. And her nerves worked all too well.
"Aahhh!" she screamed out, finally forcing her body through the twisted ferrocrete wall that was about three centimeters smaller in diameter than she was. And hot. Her hands felt like they were glued together, and so red…
so lost everyones gone where are they…
Althea wasn't there. She narrowed her focus. Althea wasn't there.
shes not dead she cant be dead i cant lose her too itll be too much…
She forced her focus, even though blinding pain threatened to pull her back into the pain-free darkness. She's alive. Not in this Mirror.
Ariane took a breath, and realized she had been holding it. A moment later, she wished she hadn't taken that breath as a series of racking coughs threatened to knock her over. But I have to get out. The smoke got into her lungs, her eyes, her mouth… and then she realized the ship was in flames.
Finally stumbling out, the green grass was a relief to burning feet, and she collapsed, shaking without hope of any relief. Not now. Though a cool ease to the pain, the craggy grasses threatened to poke through her skin, which felt like it had been run through a blender. Force the pain off, shunt it away, you have to focus…
As the ship behind her went up in flames the resulting explosion of the fumes around her knocked her over again, and she didn't fight unconsciousness any longer. well maybe i'll die maybe its better if i'm just dead and then its the end and no one will worry because theyll all die too and then itll be the end and…
_-_-_-_-_-_-_
She woke up feeling like a herd of banthas were having a party in her head, and like someone had donated her to the local nerf herd for a play-toy. "Am I alive?" she tried to say, but it came out more like "Mmmmiaave". Her mouth was so dry…
"Shush, go back to sleep…"
Bright lights…
everythings bright where am i i dont know i cant stay conscious how come everythings gone i cant sense anything wheres the force cant i just die already?!
Back into darkness.
_-_-_-_-_-_-_
She dreamed. Ariane didn't know if it was visions, or merely dilusions brought on from the pain– pain that wasn't just in her head. It was in her heart as well.
The Temple in flames, Elachi in dark robes that overshadowed his face, a crimson blade in hand along with his silver 'saber. A girl who looked somewhat like her slipping through dark waters, fingers cutting through the water long in a futile hope of escape long before her oxygen finally ran out and she slipped into death. An orange robed woman, searching for something on a planet that shouldn't've existed.
And a mirror, slipping and falling, finally shattering into so many small pieces that it could never be mended– her reflection falling to pieces.
_-_-_-_-_-_-_
When she finally regained consciousness, she didn't know how long it had been since she had been able to breathe.
Althea is Ariane's Master. She later joined the Sith, then Jemaei went Dark and mindwiped her. This is before Ariane went Dark. At about the same time Elachi disappeared.
The first scene posted on this thread also sort of fits.
http://yodaclones.proboards29.com/index.cgi?board=PWjunk&num=1105671102&action=display&start=30 I'm getting lazy, and this one has a lot of italics in it that I don't want to have to put tags around again.

- What is the ugliest or most violent or most cruel or nasty act that you have allowed your main character to do? (Again, examples if you have any please)
Myth and Taania's actions in this RPG page probably count for that. But Myth's always evil beyond mention. http://ennaani.proboards3.com/index.cgi?board=StarWarsRP&num=1099706189&action=display&start=180
I'll try to come up with something from LotG, though. Lesse… *thinks* What evil, cruel and awful acts have I ever done, beyond using my narrator powers to completely destroy plots? Or does that count. But I don't have that archive on here, and I usually have more than one main character… grumble… does Tiana killing Anakin count? I mean, that scene was very cruel, in a sense. Emotionally cruel scene… *yells* JANDALF, DO YOU FEEL LIKE STARTING ANOTHER RPG ON THE PAINT WARS THREAD? TO WRITE JF/ENN WHEN SHE WAS STILL TIANA/SHADOW AND TURNED?
Now THAT could class as cruel… hey, what HAVE I posted on Yoda Clones anyway…
*suddenly has come up with fitting answers to this question* Cyaeth fits for my most cruel character acts. I don't have the archives on this computer. He WAS a main charrie, until Tiana did him in, so…
A) Attempted to kill Jether by Force-choking him and slamming him against a wall. Nearly succeeded, but Dia-Tiana sensed the conflict and forced Jether to wake up. This was before they were paired.
B) Fought Jemaei, nearly killed her, then proceeded to be very evil and use her as blackmail to get Ennariel to open a portal for him.

(see following scene that may or may not explain a bit. If I had the archives for the later scenes on my computer I'd just give you those, but I, unfortunately, do not.)
"Touch me again, and I'll slap you so hard that you'll rattle from here to kingdom come," Ennariel snapped at the so-called Dark Jedi walking behind her. He wore a smirk on his face, and didn't really seem to let her threats rattle him. He knew they were empty, with lack of anything that equaled a threat. As she was legally blind, and near a state of hystarics, it was unlikely she could do anything to harm him as it was.
"Turn left please," he said dryly, and, when the rogue Jedi refused to comply, he had to continue on. "Unless you'd rather see Jemaei die."
Her eyes narrowed. "You are a vile beast, turning a training bond against me."
"And it worked. Jandalf should see you as a traitor once more…"
"…because I wouldn't let Jemaei die. Because you knew that I couldn't stand to see another innocent death at my hands."
"It worked."
"I hate you."
Cyaeth shrugged. "Your choice– hate can do nothing to you but lead you back down the darkside."
"Let me rephrase that. I loath, dispise, abhor, and would gladly toss you into a sarlacc pit without a second thought– though that death is a lot quicker than you deserve."
"So join the darkside."
Enn spun at him, and spat in his face. "Traitor I may be, but not willingly, you son of a bantha."
He marveled at her aim– nearly completely blind now, as medical exams revealed, yet she was still able to target him quite easily. He looked down the smaller woman– a bit taller than Tiana at full height, she walked slumpted, and defeated– her eyes were the same dark brown, and face nearly the same shape. Had she not been the seventeen years older that the Mirror placed her, she could've been Tiana.
She was Tiana, once.
"You look at me as a Shadow," Enn spat out.
"It's all you are."
"Maybe so," she muttered, "but it doesn't mean I can't cause you one hell of a lot of pain before you die."
"I'm honored to think that you loath me so."
"You won't be honored when you die."
Cyaeth made a strange face. "You really think your threats mean anything to me? I'm the one holding the lightsaber."
Enn smirked. "What I can't see, I can't know."
For her near hystarical state, and the glisten of tears in her eyes, she did well at keeping the pretense of complete Jedi calm around her. She wrapped it about herself as a cloak, and used it to keep her own feelings under wrap, spitting hate at him instead. Cyaeth could recognize her near state of tears, but she still kept a remarkable seeming of pure rebellion to her.
"And what you can feel, you'll know." He snapped the scarlet blade to existance, and brought it near to her throat, just brushing against the frail skin she wore. She didn't wince, and Cyaeth applauded her calm. He knew that the slight touch burnt enough to cause pain.
Instead of bringing the blade across to kill her, though, he flicked it up in a similar motion that Obi-Wan had made not that long ago, when they had fought, and severed the braid she still wore– partly as a comfort, he had assumed.
He was appeased to see her wince, and did the same to the other braid she wore to balance her hairstyle out. "You're a Jedi Knight now," he mocked. "You don't need to wear a braid."
"You're an idiot and a fool," she replied, dryly. "And you won't kill me because you need me to open your portal, and you know you'll never get Maei to open it."
"No, I won't kill you yet," he allowed. "Though I daresay I could find another way to open a portal, rather than using a blind Jedi who happens to have a strong weakness to the pain of close friends."
"You try living with the pain of knowing you're the reason several innocent people died, and know that you could've saved them, and see how well you do next time someone is attempting to kill your apprentice," Enn snapped.
Cyaeth shook his head, and snapped his lightsaber from existance. "On the contrary, I know exactly how it feels," he said, dryly.
"Oh, I'm certain you do. And I'm certain you wish Jandalf had been killed back on Yavin IV as well."
"Of course not," he shot back. "If she had died when the Mirror dictated she should have I would not have the opportunity to kill her myself."
"This has gone beyond simple revenge, hasn't it?"
Cyaeth paused, clearly at a loss of words for the moment. Ennariel siezed the chance, and continued on. "It's not just because of Tiana that you want to kill her, isn't it? It's because of Jemaei, and Jether, and me, and because you just want power. You know that Tiana would not have wanted you to kill her, even if she was the catalyst that brought about the fall– and you know that it wasn't her fault."
He slapped her across the face. "Shut up!" he growled between clenched teeth.
Ignoring the stinging redness that crept across her face, Ennariel continued sharply. "You know that Tiana had no choice but to let herself die. You know that had she not none of us would live now. You honor not her honorable death, but your lust for power."
Cyaeth took a step towards her, staring down at the blind Jedi. She could sense his eyes burning into the top of her head, but brazenly carried on. "All you care about now is slaying those related to your Master so that you no longer have to walk in his shadow. You know as well as I do what it's like to walk in someone else's shadow. And you don't care what you do to another's heart when it comes to getting out of that overbearing shade."
He couldn't take it any longer, and whipped a hand out, clenched around her throat– tight enough that her breathing was restricted greatly, but she couldn't die. "I grow tired of your insolence."
"You see less than me, don't you," she choked out around his tight grip.
"I see more than you'll ever manage, blind Jedi." He tightened his grip, watching her fight for air, and then, a few moments before she would've passed out, dropped her to the ground. Enn fought for air, and to regain the oxygen that she had lost in attempting to speak.
"Why don't you just kill me?" she gasped, breath short in coming as she attempted to recover.
Cyaeth pulled her to her feet brutally, and took some small pleasure in seeing her struggle to keep her footing in front of him. "Because you said it yourself– I need you to open the portal, Shadow."
Her reply was vicious enough to knock him off guard for a moment. "Of course, Anakin."
C) Nearly killed Jandalf in the Shadow Realms, and did a good job of it too.
D) Mentally blocked Tiana from sensing the battle til it was nearly too late.
There, I think that should work.
*innocently* Though this image is pretty close to that evil too… yes, I drew this. The girl, anyway.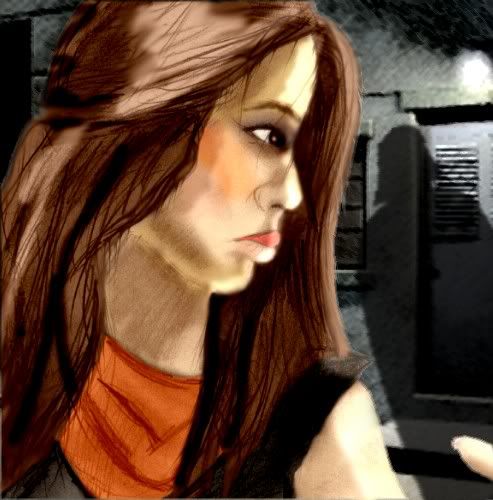 Any questions?